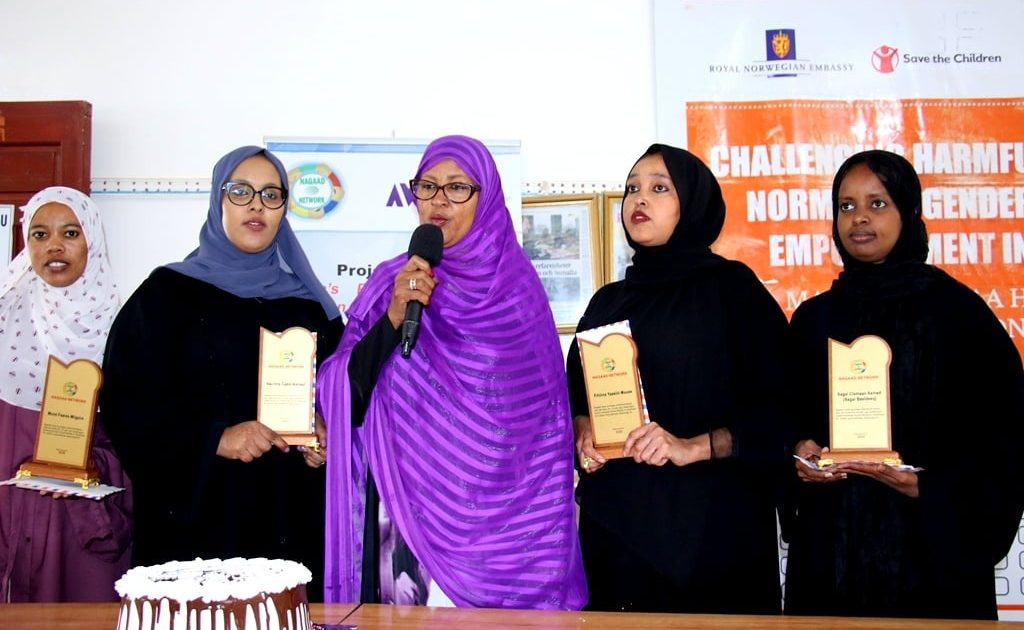 Nagaad Network Awarded Four Female Journalists In Recognition Of Their Activism On Women's Issues And Their Use Of Social Media To Educate And Promote Women Empowerment.
NAGAAD gave awards and certificates to female social media influencers for their work in spreading women related issues. The four awardees were Nicima Cabdi Axmed, Fihiima Yasin Muuse, Sagal Cismaan, and Muna Faarax Miigane. The award recipients thanked Nagaad for the recognition, and they encouraged other girls to also be involved in women's issues. Nagaad's Executive Director, Nafisa Yusuf, also spoke and said, "We are rewarding four girls today for their diligent and relentless effort to spread awareness on women's issues and advocate for women's rights'
NAGAAD Oo Abaal-marisay Hablihii Sanadkan Ugu Saamaynta Badnaa Baraha Bulshadda Ee Gudbinaayey Wararka Arimaha Haweenka
Hargaysa (NAGAAD) Dallada Isku Xidhka Haweenka ee NAGAAD ayaa abaalmarino iyo Shahaadooyin ku maamuustay qaar ka mida hablaha ka hawal gala warbaahinta gudaha Soomaaliland, hablahan  ayaa dedaal badan ka muujiyey baraha bulshada Ineranetka ee bulshadu ku xidhiidho kuwaas oo si hagarla'aana u gudbinaayey arimaha haweenka, gabdhaha la abaalmariyey ayaa kala ah Niciima Cabdi Axmed, Fihiima Yaasiin Muuse , Sagal Cismaan, Muna Faarax miigane, dhamaan hablahan oo haalkaa ka  haday waxa ay NAGAAD uga mahad celiyeen Abaalmarintaasi, halka ay hablaha dhigooda ahna ugu baaqeen inay gudbiyan wararka arimaha haweenka.
Agaasimaha Fulinta NAGAAD Marwo Nafisa yusuf Maxamed oo halkaasi ka hadashay ayaa waxaa hadalkeeda ka mid ahaa:-"Waxanu halkan xarunta NAGAAD ee bahweynta haweenka Soomaaaliland aanu abaalmarin ku" guddoonsiinay afar gabdhood oo ka mida gabdhihii sanadkan arimha haweenka si fiican oo hawlkarnimo ah oo aan hagrasho lahayn u baahiyey"