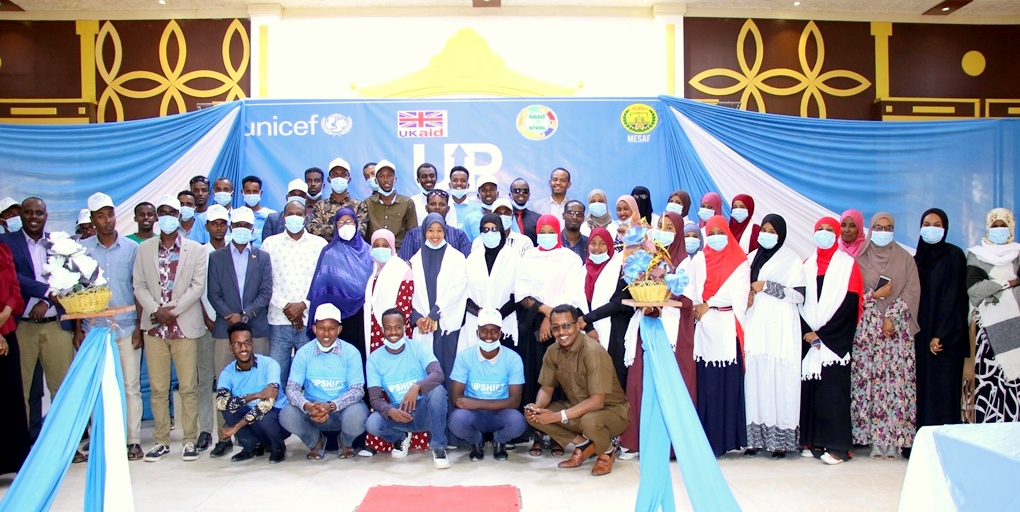 The Second Patch of 50 Uplift Program Students Have Completed the Business Orientation Training
A four-day training course for 50 young entrepreneurs who were the finalist in UP SHIFTING start-up program whose aim is to support local youth entrepreneurial talent and connect them to the local market and beyond. One of the trainees speaking at the venue said, "Your business should be in compliance with the Islamic sharia, and Good will bless you and most importantly always have to think and come up with solution to the challenges facing our society."
"UNICEF committed to supporting young people, creating business opportunities, and I thank Nagaad for its good work in managing the program.," said UNICEF representative speaking at the venue.
Mr. Abdirashid Ibrahim Sh Abdirahman, Director General of the Ministry of Employment, Social and Family Affairs addressing the participants commended the initiative and at the same time offered advice to young people, by saying, "I really appreciate Upshift's creativity. It is important to create opportunities for young people to do business.
Ms. Nafisa Yusuf Mohamed, Executive Director of Nagaad NETWORK said, "I would to use this opportunity to congratulate all the who participated in the training and for your perseverance in learning how to manage you own businesses, your vision a reality, we are always ready for you.